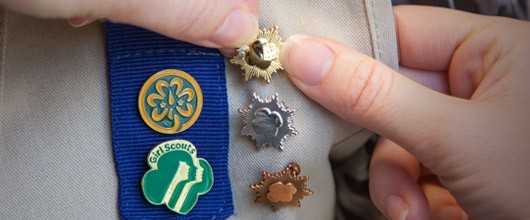 Highest Awards
Every Girl Scout goes above and beyond to make a difference in her community and the greater world. The skills and experiences she gains along the way set her up for special recognition through the Gold, Silver, and Bronze Awards.
All three awards give girls the chance to do big things while supporting issues they care about.
As you earn one of Girl Scouts' highest awards, you'll change your corner of the world—and beyond. The possibilities are endless.
2023 Highest Awards Ceremony
We are so excited to have you joining us to honor our wonderful girls! They have worked so hard to receive this award and made great impacts on their communities. Thank you for RSVPing to our celebration!
The ceremony will take place:
Saturday, May 13th, 2023
St. Luke's United Methodist Church
222 NW 15th St.
Oklahoma City, OK 73103
The ceremony for Bronze, Silver, and Gold will start promptly at 10am. We request that honorees arrive between 8:30 and 9am for a special workshop with members from our Board of Directors.
Please allow time for parking and seating prior to the start of the program.
Please fill out the link below to reserve your place at the ceremony.
Further celebration for our Gold Award recipients at a separate location will follow.
Questions can be directed to Maren at mcottrell@gswestok.org
Thank you to our wonderful sponsors!
Presenting Sponsor
Supporting Sponsor
Support Highest Awards
We always appreciate your support of our Girl Scouts. If you'd like to support Highest Awards, please click the button below to make a donation.