Governance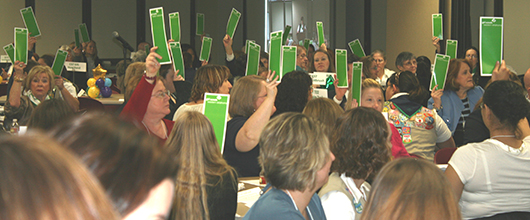 Our volunteers have the opportunity and responsibility to provide input on our governance and management system. Our democratic values hold that members should have a voice in influencing major decisions.
A great way to get involved is to represent members as a delegate at our annual meeting every year. This opportunity is open to girls and adults 14 years of age or older. Contact your Service Unit manager for more information.
Annual Meeting
Held each January, the Annual Meeting is for all members 14 years and older. The 2022 Annual Meeting is scheduled for January 21, 2023, from 10am to noon at Camp Trivera.

Receive updates on council business and governance decisions made by the Board of Directors;
Delegates vote on the Board of Directors Slate and Bylaws;
See some of our outstanding volunteers receive awards.
Representation by members in every Service Unit encourages informed decision-making and improved two-way communication.
Delegates / Alternates must have their forms submitted no later than December 16, 2022 at 6pm. 
Documents & Forms

Delegate & Alternate Training

Please view the video below to help you prepare for our upcoming Annual Meeting, in which you have been selected to represent your Service Unit. After viewing the video, please return click on the "Report Training" link, so that we might track your participation in the Training.
Board of Directors
Girl Scouts Western Oklahoma is governed by a board of directors, which provides strategic leadership, advocacy, decision-making, partnerships and policy development/oversight. It also includes Girl Board Members.
Executive Committee

Diana Rogers Jaeger: Board President

Diana helps organizations harness the power of culture to achieve greater success and employee engagement. As a results-driven consultant and trainer, she develops workplace cultures that lead to improved employee morale, productivity, and retention. As the founder of Love To Appreciate Consulting, her clients benefit from her more than 12 years of experience in the communications industry and her Master's degree in adult and continuing education from the University of Oklahoma. Diana loves to collect experiences and journal about them which is why she recently trained to run her first and second marathon. She is the proud wife of Kevin and the mother of two boys, Aiden and Axl.

Catherine Oster: 1st Vice President

Catherine is the vice president of strategic planning for Devon Energy. She joined Devon in 2004 and held various engineering roles before taking leadership positions in engineering and strategic planning.  Before joining Devon, she worked for Texaco in 2000 which became ChevonTexaco in 2001 as a both a production and reservoir engineer.  She has a bachelor's degree in petroleum engineering and a master's in business administration from the University of Oklahoma, and is a member of the Society of Petroleum Engineers. Catherine lives in Oklahoma City with her husband Andrew and their twins, Elizabeth and Christian.

Gayle Semtner: 2nd Vice President


Gayle Semtner currently volunteers as co-chairman of the Juliette Low Leadership Society for the Girls Scouts of Western Oklahoma and co-chairman of the Ladies of Grace Conference Christ the King Roman Catholic Church. Other involvement includes the Arts Council of Oklahoma City's All Access Arts Committee, University of Oklahoma College of Medicine Alumni Association's Evening of Excellence committee, the Junior League of Oklahoma City and a graduate of Leadership Oklahoma City Class XII. Semtner has served as the Community Development Specialist for the Oklahoma Healthy Aging Initiative (OHAI) at the Donald W Reynolds Department of Geriatric Medicine at the OU Health Sciences Center and the Program Manager for the Aging and Disabilities Resource Consortium (ADRC) with Aging Services Division of the Oklahoma Department of Human Services. She has served on the boards of Friends of the Mansion (Governor's Mansion), Oklahoma Arts Council, Cultural Development Corporation of Central Oklahoma, Arts Council of Oklahoma City, Junior League of Oklahoma City, Science Museum Oklahoma and the St. Anthony Hospital Foundation.

Debbie McKinney: 3rd Vice President:

Debbie McKinney is an attorney practicing in Oklahoma City, Oklahoma.  For the first 20 years she practiced in the area of employment law.  Over the last decade she has been practicing in administrative law.  Debbie moved to Oklahoma in 1980 to attend graduate school and obtained her master's degree in nursing. Debbie has been President of the Oklahoma City Orchestra League (OCOL) and served in several positions on the OCOL Board and President of the American League of Orchestras (LAO), Volunteer Council.  She is currently the chair of the Music Advisory Board at Oklahoma City University.  Debbie is currently on the Girl Scout Board for the Western District of Oklahoma. Debbie is the proud mother of a son (who is also a lawyer), grandmother of three wonderful grandchildren and enjoys spending time with her family and traveling.

Steve Mason: Secretary


Steve is the president of Bluebird Consulting. He is a registered Professional Engineer in the States of Oklahoma, Texas, and New Mexico.  He has worked full-time in the waste management and environmental industry for more than 30 years.  Steve received a Master of Science degree in Civil Engineering from Stanford University and a Bachelor of Science degree in Environmental and Water Resources Engineering from Vanderbilt University. In 2014, Steve received the Juliette Low Philanthropy Award. Steve has three children, Travis, George and Marie, who is a Gold Award Girl Scout.

David Mayfield: Treasurer

David currently serves as the Chief Financial Officer of Tri-State Industrial Group. He has over 20 years of experience in both public accounting and private industry. David currently serves as chairman of the audit committee of the Girl Scouts of Western Oklahoma, treasurer of the Oklahoma Business Ethics Consortium and is a member of the advisory board of AFLG Investments Private Equity.  He was named to the OKC Business 40 Under 40 in 2006, and is a graduate of Leadership Oklahoma City. David graduated from Oklahoma State University and lives in Edmond with his wife Alishia and two children, Nicholas and Madelyn.

Past President: Joan Maguire

Joan is the managing general partner in J & M Investment Co. and is very active in her community.  She serves on the GSWESTOK Board, as well as the Oklahoma Contemporary Art Center and has served on numerous other boards, including United Way, Allied Arts, and Calm Waters and Oklahoma City Museum of Art.  Joan is a lifetime Girl Scout member, who has been involved with Girl Scouts since she was a Brownie leader in 1970. She is a charter member of the Juliette Low Leadership Society and served as the 2007 Chair for the Juliette Low Leadership Society of Oklahoma City.

 

 

Members-at-Large

Daniel Adams
Ed Clements
Ally Glavas
Kay Goebel
Brooke Haneborg
Susan Hardy Brooks
Michael Hines
Carol Johnson
Ayana Lawson
David Lewis
Randy Lewis
Tanisha Beachman
Susan Regier

Cecilia Robinson-Woods
Fawn Sachleben
Erin Shipp

Girl Board Members

Lilly Thomson
Bailey Krajnik