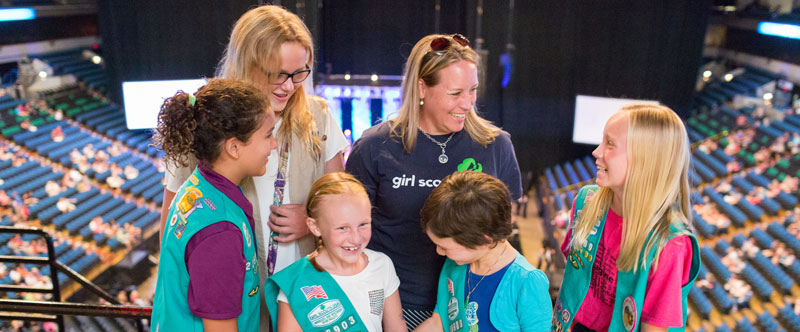 Become a Volunteer
Whether you can give a few hours, weeks, months, or years volunteering with Girl Scouts, you'll introduce girls to new experiences that show them they're capable of more than they ever imagined. Volunteering is flexible and fun, and you'll play a huge part in helping to build girls of courage, confidence, and character.
Ways to Volunteer
Whether you want to lead a troop of Girl Scouts, mentor girls during the cookie sale, or just help carpool, there is a place for you in Girl Scouts. Check out our volunteer roles to see what interests you the most:
Troop Leader or Co-Leader: Guide a group of girls—a "troop"—and mentor them as they make new friends, practice a lifetime of leadership with girl-led activities, and so much more!
Troop Family & Friends: Assist with driving, activity planning, snacks, money management, or other tasks necessary to keep the troop running oh-so-smoothly.  
Cookie Volunteers: Coordinate the annual cookie sale at the troop level. Set up cookie booths, manage inventory and money, and then watch the girls light up when they earn their cookie rewards for being the best cookie sellers ever!
Service Unit Volunteers: Mentor adult volunteers as they work with Girl Scouts to create memories they will never forget.

Camp/Seasonal Volunteers: Help the girls explore nature and find the fun outdoors.
Resources & Training
You will be part of a network of thousands of talented volunteers just like you. Check out volunteer.gswestok.org — a resource website for registered volunteers with training, forms, role descriptions & more. You'll also have access to Girl Scout staff who are dedicated to helping you succeed.